Achu is a savory dish made with pounded cocoyams or taro served with yellow soup, which is an aromatic soup made with palm oil, broth and some traditional spices. It is a traditional dish of some tribes in the North west region of Cameroon, but it's enjoyed by many. My mom loved making Achu in the weekends, but as a kid, I disliked it. Now, it's one of my favorite dishes.
Achu is one dish that our parents made without measurements and it turned out good. Also, some people love Achu but the process is discouraging because the soup is very delicate. The least mistake of measuring, spoils everything. I make Achu soup based on eye measurements, so I had to consult my mom so we can come up with a recipe. Yes we did, tried it and it was super. Read along because I have troubleshoot tips.
How to make Achu:
Traditionally, Achu especially the cocoyam or taro paste is pounded in a mortar with a pestle. The soup was made using a pot or bowl with a wooden stick, where the ingredients were stirred continuously till combined.  Our parents and ancestors were or are amazing. Nowadays, thanks to innovation, there are many machines to ease the process. Achu is often served with a side of sauteed huckleberry (Njama njama).
Boil the cocoyams or taro to be tender, then pound or process till it has a smooth consistency. No lumps. I use a Food processor to ease the process.
Boil proteins till tender like beef, cow skin, tripe or your preferred proteins till tender. Take Note, it has to be properly seasoned with salt and seasoning powder, because broth is needed to make the soup.
Make the soup using the recipe in the recipe card. Combine everything into a blender and blend till well combined.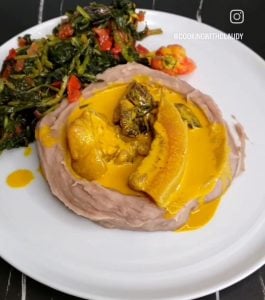 Troubleshoot Tips:
If soup is too watery, add oil and about 2 tbsp of the cocoyam paste to thicken.
If soup is too thick, add warm broth or warm water, if using water, adjust taste.
If the limestone kick is harsh, add more oil.
If soup is too flat or no taste, adjust limestone, salt or seasoning powder.
Ingredients to use: 
Limestone mix(Kangwa mix): My mom always made "Niki" which is another substitute for the limestone mix. Niki is made from the peelings of unripe plantains which has been sundried or smoke dried, burnt, ashes mix with water and strained. The water has a sour-like taste and same as limestone. If you don't have this, dissolve limestone in boiling water and use.
Palm oil only is used and never substituted for vegetable oil.
Achu spice mix: Can get it from the market or if you are in diaspora, buy from an African grocery store or place an order from Cameroon.
Beef broth: It's advisable to use broth for good taste. If you don't have broth, use warm water. Add salt and seasoning powder.
Protein: Beef, smoked or fried fish, cow skin, tripe, cow leg and your favorite protein can be used.
Cocoyams: A particular cocoyam(TARO) is used. Do not confuse it with Ekwang cocoyam which is called Malanga.
How is Achu served?
In a plate, put the cocoyam paste and bore a hole in the middle. Now pour the soup inside the hole with the proteins like in the picture above. Eat using the index finger, or both the index finger and middle finger.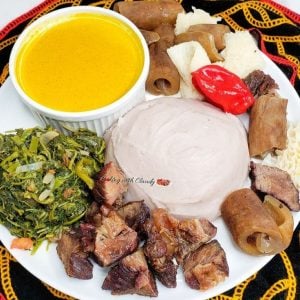 Achu and Yellow Soup.
Traditional dish made with broth, palm oil and limestone. Aromatic and tasty meal indeed.
Print
Pin
Rate
Ingredients
To Boil Beef and Cow Skin
1

kg

Beef

cut into chunks

½

kg

Cow skin

cut into chunks

2

tsp

Seasoning powder

or 2 maggi cubes

2

tsp

Salt

3-4

Cups

Water
For the Soup
1

cup

Palm oil

heated

2

cups

Beef broth

1½

tbsp.

Achu spice mix

⅓

cup

Limestone mix

Adjust salt and seasoning powder to taste.
Instructions
Add beef and cow skin to a pot or an instant pressure cooker. Add salt, seasoning powder and mix till well seasoned.

Pour water and cook on high heat till tender. If using an instant pot, boil on pressure for 10 minutes till steam goes off. If using a pot, check every 5minutes to avoid burn and add water if needed. Water must be enough to use some as broth.

Meanwhile, place the cocoyam on a cutting board and cut it into 2" thick slices, and place it in a pot. If using the small cocoyams, no need to cut. Boil right away.

Pour water, cover with a lid and cook over medium heat until tender. Then remove from heat, peel off the skin and place in the food processor. Process until consistent and smooth. Transfer to a large mixing bowl and set aside. If cocoyams is too dry, add very little water, like ¼ cup and mix till it reaches desired consistency.

Place the limestone in a small bowl, add 1 cup of water and place over medium heat, cook until most of the limestone dissolves. If you have already mixed solution, SKIP.

When beef and cow skin is ready, remove them from the pot and reserve 2 cups of broth.

In a blender bowl, pour ⅓ cup of limestone solution, heated palm oil and reserved broth, add achu spice mix and blend until combined well. Now taste to adjusts. Adjust if needed.

When the soup is ready, transfer it to the serving bowl and serve with beef, tripe, cow skin and cocoyam paste. Enjoy
Video
Tried this recipe?
Mention @cookingwithclaudy or tag #cookingwithclaudy
Nutrition
Calories:
345
kcal
|
Carbohydrates:
0.05
g
|
Protein:
47
g
|
Fat:
109
g
|
Saturated Fat:
49
g
|
Polyunsaturated Fat:
7
g
|
Monounsaturated Fat:
43
g
|
Cholesterol:
175
mg
|
Sodium:
177
mg
|
Potassium:
825
mg
|
Calcium:
31
mg
|
Iron:
6
mg