Afang Soup – A delicious soup filled with bold flavours of crayfish, leafy greens and palm oil, a delicacy in Nigeria and Cameroon.
AFANG SOUP
This soup combines okazi Leaves, water leaves, meats and seafood. Specifically, Afang soup is a traditional dish of the Efik and Ibibio tribes in Nigeria. This resembles Eru in Cameroon but has a different cooking method and a slight ingredient difference. Also, this soup reminds me of Edikang Ikong, made with water leaves and ugu leaves, same cooking method and tastes almost the same.
Traditionally, waterleaf is used and can be substituted with spinach, as I did in this recipe.
Ingredients Used
Okazi leaves: This can be gotten fresh from the market, or if you are in the diaspora, get the frozen or dried one from the African store. If using dried leaves, soak in cold water overnight or at least 3 hours before cooking. Preferably in the refrigerator with some ice inside so it doesn't change its colour.
Water leaves or Spinach: Chop fresh spinach or water leaves. If frozen, thaw and squeeze excess water.
Crayfish: For taste and flavour. Feel free to use Periwinkles.
Palm oil: This has no substitution and is one of the main ingredients known for its flavour and taste.
Salt and Seasoning powder to taste.
Meats: Use any meats of your choice. Boil them till tender. It's advisable to boil meats the day before because some will require longer cooking times. Save the stock. My cow skin took me almost 1 hour to cook and was done the day before.
You might like these other recipes.
What Can I serve with this?
Eba
Water fufu
Cassava fufu
Oat fufu
Let's now make the best and tastiest Afang Soup.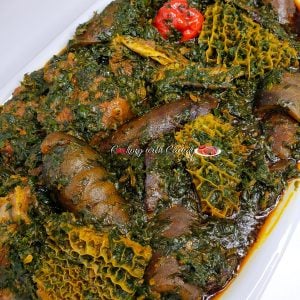 Afang Soup
A delicious soup filled with bold flavours of crayfish, leafy greens and palm oil, a delicacy in Nigerian and Cameroon.
Print
Pin
Rate
Ingredients
1kg

Beef, Tripe and Cow skin

500

g

Okazi/Afang leaves

900

g

Spinach or Waterleaves

frozen or 3 bunches of fresh spinach

½

cup

Crayfish

deboned

1

cup

Smoked fish

1-2

cups

Palm oil

2-3

tsp

Seasoning powder

or bouillon, adjust accordingly

1

tsp

Salt

3

cups

Beef stock

Scotch bonnets
Instructions
In a pot, add the tripe, beef and cow skin. Season with the salt and seasoning powder, then add water and cook until tender. Make sure you have enough stock.

If you're using precooked meats, you can skip this step.

If using frozen spinach or water leaves, squeeze out excess water. If using fresh, finely chop them.

Using a food processor, finely process the okazi leaves.

When meats are tender, add the smoked fish, palm oil, scotch bonnets and crayfish. Stir well and let it simmer for about 2 minutes.

Add the water leaves and okazi leaves and stir well until well combined. If the soup is dry, add water or stock. If there is too much water, allow it to dry off.

Taste to adjust any seasonings, then serve with your choice of swallow.
Video
Tried this recipe?
Mention @cookingwithclaudy or tag #cookingwithclaudy