If you're looking for the best Nigerian Spinach Stew (Efo riro), look no further because this recipe will have you hooked with its inviting aroma and taste.
What is Efo riro? 
Efo riro is derived from 2 Yoruba words, Efo meaning "leafy" and riro meaning "to stir". It's a hearty meal that is very popular in Africa, especially in Nigeria, and it's simply spinach and meats cooked in pepper sauce with flavorful spices. Efo riro is a very healthy and low-carb meal, especially when eaten as it is, except when combined with starchy sides.
Ingredients Needed:
Spinach
Locust beans
Meats
Palm oil
Crayfish
Onion
Red bell peppers
Habanero peppers
Salt and Seasoning powder
Recipe Variations:
Use any meats of your choice, but note that meats have different cooking times. Boil meats separately till tender. Use a pressure cooker or cook meats the day before to shorten the cooking time.
If you don't have spinach or dislike it, substitute it with kale or collard greens.
Substitute palm oil with any cooking oil of your choice.
How to prep the Spinach.
If using frozen spinach, let it thaw thoroughly, then squeeze out excess water.
If using fresh spinach, cut spinach from the stalk, or you can leave the stem on. Wash perfectly to remove debris, slice, and pour in boiling or hot water. Stir for about 5 minutes and drain water. Now add cold water and stir again to stop the cooking process. Squeeze out excess water.
Important Tips To Note:
Coarsely blend peppers and onion using the pulse option of a food processor or blender. Refrain from blending for long.
For the onion, dice some and process some with the peppers.
If you want the stew to have more gravy or sauce, add more broth or stock, but be mindful that spinach releases a lot of water.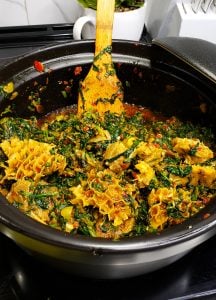 What to serve with Efo riro.
Although it can be eaten as it is, it can also be served with
Rice
Fufu
Amala
Fried Plantains
Eba
Yams
Potatoes
FAQS:
Can I use tomatoes?
Traditionally, this recipe doesn't call for tomatoes, but you can add them if needed.
Can it be vegan?
Yes, skip the meats and broth. It can be replaced with any vegan options, and for the broth, use water or vegetable broth.
How to preserve Efo riro.
It is best when served immediately, but leftovers can be preserved in the fridge for up to 3 days and freezer for up to 1 month. Thaw and reheat on low heat.
You may like these recipes:
Now, let's make the tastiest Efo riro ever. Don't forget to leave me a 5-star rating if you love this recipe. Thank you!
Spinach Stew Efo riro
It's a hearty meal that is very popular in Africa, especially in Nigeria and it's simply spinach and meats cooked in pepper sauce with flavorful spices.
Print
Pin
Rate
Ingredients
For Meats
1

Cow feet

cut into chunks

1

Smoked mackerel

deboned and cut to chunks

½

kg

Beef

1

kg

Tripe

2

tsp

Salt

2

tsp

Seasoning powder

½

Onion

diced
For the Stew
2-3

bundles

Fresh spinach

1kg Frozen Spinach

1

large

Onion

chop ½ and blend the rest

3

Red bell peppers

¼

cup

Crayfish

ground

2

Habanero peppers

can be adjusted

3

tbsp

Locust beans

(iru)

1

cup

Broth

from cooked meats or water

1

tsp

Salt

1

tsp

Seasoning powder

1-2

cups

Palm oil
Instructions
Add the tripe and cow leg to a pot, season with salt, seasoning powder, and diced onion. Mix till well coated, and add water. Boil till tender. I used a pressure cooker, which took 10 minutes to cook.

In a separate pot, add beef, onion, salt, and seasoning powder. Add water and boil till tender.

Using a processor with the pulse option or a chopper, roughly blend bell peppers, habanero, and onion. It's supposed to have a coarse texture and not smooth.

Wash and slice fresh spinach. Put spinach in a bowl and pour in boiled water. Stir for 4 minutes, then drain the water and add cold water to stop cooking. If using frozen spinach, SKIP STEP!

Now drain the cold water and squeeze the excess water. If using frozen spinach, also squeeze out excess water.

In a hot pot, add the oil and heat, be careful not to bleach. Add chopped onion and locust beans, let it cook for 2 minutes.

Add the coarsely blended pepper mix and stir till combined.

Cover the pot and let it cook for about 10 minutes till some water dries and the oil floats. Check the pot from time to time to avoid burning.

Now add, the crayfish, salt, seasoning powder, cooked meats, and broth. Stir well, then add the blanched spinach.

Stir or mix till well combined then let it simmer for 3-5 minutes. You can add more broth if needed. Adjust taste.

Serve with your choice of side and enjoy.
Video
Tried this recipe?
Mention @cookingwithclaudy or tag #cookingwithclaudy