Goat Meat Pepper soup is a staple in the African cuisine. It's simply tender goat meat in a spicy soup filled with deep flavours.
Pepper soup is a hearty and versatile dish because it can be enjoyed any time of the day, be it breakfast, lunch, dinner or as a dessert with many sides. It is best enjoyed when served hot, very healthy and nutritious too.
On occasions or at parties, this dish is often served as a dessert or main dish. Many people also believe that, if you've had too much alcohol to drink, eat some pepper soup to clear your eyes because of the spiciness. I really can't explain how it works but please don't ask me how. Funny right? The spiciness in this dish can be adjusted accordingly.
What Ingredients to Use?
Goat meat: Cut into small chunks so it cooks faster. I always choose female goat meat because it tends to cook fast and is also very tender. You can cook in an instant pot or pressure pot to hasten or ease the process.  NOTE: In this recipe, I combined all the ingredients with the meat and cooked all at once because my meat is very soft, If your goat meat is harder, boil it with some seasoning powder and salt till tender before bringing in the rest of the ingredients. Goat meat can be substituted with lamb, fish, beef, chicken and many more, but cooking time will differ.
Pepper soup spice: You can buy it from the market or if you're in the diaspora, get it from an African grocery store. It can also be homemade, Here is the recipe for the homemade version.
Prekese or Aidan fruit: Never ground this, just break or cut and drop it into your soup for flavour. Throw away after consuming the soup. Prekese is hardly eaten, just a flavour enhancer.
Njangsa: An oil-rich seed with a strong nutty flavour. Drop some ground njangsa into your soup for taste and flavour, then come back here and thank me. It is sometimes used to thicken soups, so be careful not to use too much of it, follow the recipe.
Scotch bonnets: Makes soup spicy and adds the flavour. Adjust accordingly.
Basil or any scent leaves: Drop at the end to garnish, also for flavour.
Chilli or any red peppers: To garnish.
How to Preserve Pepper Soup
Can be in the refrigerator for 3 days and transferred to the freezer. Can last for up to 6-7 months in the freezer. Thaw and reheat in a microwave or on low heat till hot.
What can I serve Pepper soup with?
Plantains
Rice
Yams
Fufu
Bread
Potatoes
Can be eaten as it is.
Now let's make tasty and HOT pepper soup!!!!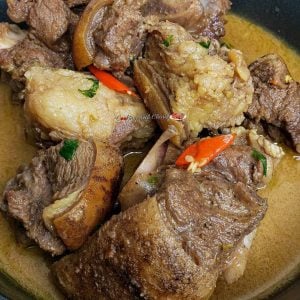 Ingredients
1

kg.

Goatmeat

cut into chunks and wash.

2

tsp

Seasoning powder

1

tsp

Salt

1

tbsp

Peppersoup spice mix

½

Prekese

or aidan fruit.

1

tbsp

Ground Njangsa

or use 10 grains

2

Scotch bonnets

½

thumpsize

Ginger

3-4

Garlic cloves.

¼

Onion

medium size

Chilli and Basil

chopped to garnish
Instructions
In a pot, add goatmeat chunks and season with salt and seasoning powder. Mix till well coated. Set Aside.

Add onion, njangsa, garlic, ginger, scotch bonnets with some water into a blender and blender till smooth.

Now add the blended mix to the goatmeat, peppersoup mix, and water. The water should be just above the meat.

Cover the pot and boil till tender. When fully cooked, reduce heat and garnish with chopped basil and chilli. Adjust taste.
Video
Tried this recipe?
Mention @cookingwithclaudy or tag #cookingwithclaudy