Puff Puff – Sweet, and crunchy softballs that are addictive. Take one, and trust me you will take another. Very popular street food in Africa. In Cameroon, street vendors serve these with beans and pap(akamu), and the queue is very long indeed.
Do not spend too much time making puff puff anymore. Not everyone has about 1-2 hours a day to make puff puff, so I had to come up with this recipe as requested on Youtube and Instagram. You just need to mix everything and then fry it right away, do not let it rise or rest.
Puff Puff is very versatile, perfect as an appetizer, snack, breakfast, side dish, lunch, or dinner. In fact, no matter the time, puff puff still tastes good.
Ingredients Needed:
All-purpose flour: If using self-rising flour, skip the baking powder and salt. You can always adjust the salt.
Baking powder: This is the instant rising agent. When flour is mixed with water, it becomes heavy. So, any rising agent makes it lighter. Baking powder is just perfect. If your batter is very heavy, add more baking powder. NOTE: Before frying the puff puff, use your hand to beat the batter to release air bubbles.
Warm water
Salt
Vanilla extract
Powdered milk.
How to scoop Puff Puff.
This is the part that is very challenging for some people. Do not worry. I have a Video on Youtube where it shows you 4 ways to scoop puff puff for perfect round shapes.
You can use an Ice cream scoop or Watch the video here
How to Preserve Puff Puff
Best served right away and store leftovers in an air-tight container for about 1 day at room temperature. Up to 3 days in the refrigerator and up to 3 months in the freezer.
What to serve with Puff Puff
This depends on the individual. It can be eaten as it is, or with beans, pap, corn porridge, and many more.
If you love Puff Puff, check out these other recipes.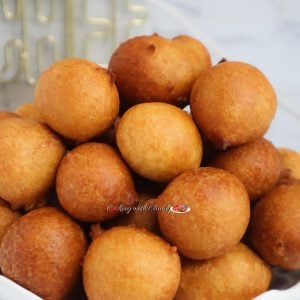 Ingredients
3

cups

All-purpose flour

2

cups

Warm water

2

tbsp

Powdered milk

optional

1

tbsp

Baking powder

1

tsp

Salt

½

cup

Sugar

1

tsp

Vanilla extract

or ½ tsp nutmeg for flavor
Instructions
In a large mixing bowl, pour in the warm water, sugar, and powdered milk. Mix till combined.

Add the flour, baking powder, salt, and vanilla extract or any flavor. Mix with your hand or a spoon until smooth, making sure there are no lumps.

In a pot of oil, on medium heat, drop a tiny batter to test the heat of the oil, If the batter floats to the top, oil is ideal for frying.

Now soak your hand in water, so that the batter doesn't stick too much on your palms. Now beat the batter with your hand to release air bubbles, then scoop and deep fry. See notes for the video on 4 ways to scoop puff puff for perfect round shapes.

Do not overcrowd the pan, as soon as it floats reduce the heat and stir from time to time so that all the balls have the same color.

Fry until golden brown, remove and place on an absorbent paper.,

Repeat the process and serve when cooled.
Video
Tried this recipe?
Mention @cookingwithclaudy or tag #cookingwithclaudy
Nutrition
Calories:
92
kcal
|
Carbohydrates:
20
g
|
Protein:
2
g
|
Fat:
0.4
g
|
Saturated Fat:
0.2
g
|
Polyunsaturated Fat:
0.1
g
|
Monounsaturated Fat:
0.1
g
|
Cholesterol:
1
mg
|
Sodium:
183
mg
|
Potassium:
31
mg
|
Fiber:
1
g
|
Sugar:
5
g
|
Vitamin A:
7
IU
|
Vitamin C:
0.1
mg
|
Calcium:
45
mg
|
Iron:
1
mg