African Goat Stew – A mouthwatering and inviting stew that is stable in African cuisine. This is very common in most African households, and who doesn't love tomato stew? lol, I bet no one.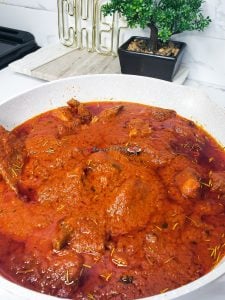 African Goat Stew.
This is a combination of blended red bell peppers, hot peppers, tomatoes, and onions cooked with meats. Very flavorful and inviting meal especially when served with rice. Nothing beats rice and stew, the all-time favorite in my home.
When it comes to stew, it's very common in Africa although the method and ingredients may be slightly different. Also, the cooking method is a matter of preference based on the individual. In this recipe, I made it differently without frying the meat and tomatoes. This method makes all the juice from the meat to stay inside the stew, with all the flavors trapped within.
Ingredients to use and Recipe Variations.
Goatmeat, can be substituted with any meat.
Fresh Tomato and tomato paste
Red bell peppers
Ginger and Garlic
Onion
Parsley and Green onion
Ground Coriander seeds, anise seeds, and cumin for deep flavors. Can use one of them.
Salt, black pepper, and seasoning powder
How to boil the Goat meat.
I have been buying goat meat from different vendors and trust me, the cooking times are very different. Some take just about 15 minutes to cook while some take up to an hour to cook. So, I will say use your best judgment and check the pot from time to time to check for doneness.
First, wash the beef perfectly and cut it into chunks. The smaller the chunks, the faster it cooks. Some people don't like the goat meat smell, you can wash it lemon and vinegar, then rinse thoroughly.
Add it to a pot and season perfectly then boil, before bringing in the rest of the ingredients. See the recipe card below for more.
If you want to fry, air fry or broil the goat after boiling, feel free to do so, just make sure you save some broth for the stew. If you love the frying method, check out this Chicken Stew Recipe
Also, the goat can be substituted with chicken, beef, lamb, or any other proteins. The cooking time will differ if substitutions are made.
What to Serve with Stew
This is why I love stew, it goes with anything. Very versatile dish. To name a few, rice, plantains, yams, pasta, potatoes, and many more.
How to Preserve Stew:
Best when served immediately, but put leftovers in an airtight container and put it in the refrigerator for up to 3 days, and freeze for up to 2 months. Thaw and reheat on medium heat or microwave.
Ingredients
2

kg

Goat meat

washed and cut into chunks

2-4

Red bell peppers

1 ½

large

Onion

4

large

Fresh tomatoes

or canned whole tomatoes

½

cup

Tomato paste

2

Habanero peppers

optional

2

Green onion

3

sprigs

Parsley

1

tsp

Blackpepper

2

tsp

Salt

½

tbsp

Seasoning powder

1

tsp

Dried thyme

1

tsp

Cumin

optional

1

tbsp

Ginger garlic paste

1

tsp

Coriander seeds

ground

1

tsp

Anise seeds

½

cup

Cooking oil

3-4

cups

water

might need more or less
Instructions
Add the ½ onion, parsley, and green onion into a blender and blend till smooth. Save some parsley for garnishing at the end.

In a large pot, add the washed goat meat chunks, blended mix, salt, black pepper, cumin, seasoning powder, ground coriander seeds, ginger and garlic paste, and thyme. Using your hand, mix till well coated.

Now pour in the water and let it cook on high heat until almost tender. Add water as needed and check the pot every 5 minutes so it doesn't burn, and test for doneness. This will take about 30-40 minutes depending on the type of goat meat you have.

While the meat is cooking, use a blender to blend 1 onion, tomatoes, habanero, and bell peppers until smooth.

When the water in the meat is almost dry, add the blended tomato mix, tomato paste, and cooking oil. Stir with a spoon till well combined. Depending on how you want the stew, you can add some water at this point.

Let it cook again for 10-15 minutes until the meat is tender. Garnish with parsley and taste to adjust any seasonings

Serve with a choice of side.
Video
Tried this recipe?
Mention @cookingwithclaudy or tag #cookingwithclaudy