Catfish Pepper Soup, Spicy soup packed with deep flavours of natural spices. This is the easiest and quickest soup, perfect to enjoy anytime, any day. Let the word "Pepper" not scare non-spicy food lovers, this can always be adjusted.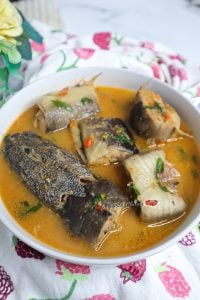 Going through my blog, I could not imagine I haven't posted catfish pepper soup, one of the most loved soups in West African Cuisine. Well, you got it now.
When I have had a long day and don't want to spend too much time in the kitchen, pepper soup is my go-to. Especially with any fish because it takes little time to make. 20 minutes, and you are already enjoying a plate of soup.
Why Eat or Choose Pepper Soup?
Pepper soup is very good for weight loss because it has little or no oil and fewer calories.
Due to the spiciness, it helps to reduce nausea, especially in pregnant women and sick people.
Perfect for cold weather, it brings out the heat in you.
Perfect for a hangover. If you are having alcohol, drink pepper soup after, and you will hardly get a hangover.
Very easy and quick to make.
Easy to find ingredients.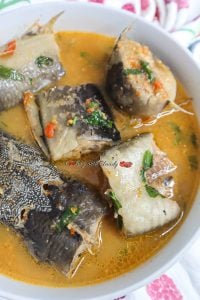 How To Wash The Slime From Catfish
The slim is sometimes discouraging to some people, but follow these tips:
If you can't gut the fish, ask your fishmonger to do it. Also, your fishmonger might wash the fish for you, but I suggest you rewash it.
Put the fish in a bowl, add enough salt and scrub the fish with salt, don't add water at this point.
When some slime comes out, rinse with hot water thoroughly. Then, repeat with salt and rinse with cold water until you can't feel the slime anymore.
Also another salt substitute is the Alum crystal rock.
You can also tell your fishmonger to do all this for you.
Ingredients Used and Recipe Variations.
Catfish: Make sure all the slime is removed from the fish. Cut into steaks or pieces. Any fish can be used.
Pepper soup Spice: You can use this Pepper soup Spice Recipe or store-bought spice mix.
Ginger and Garlic: Use the fresh ones for flavour.
Bell pepper for colour and flavour.
Njangsang: This gives the soup a deep flavour.
Salt and Seasoning Powder to taste.
Habanero: For heat, adjust accordingly.
Check out these other recipes
Catfish Pepper Soup
Spicy soup packed with deep flavours of natural spices. This is the easiest and quickest soup. Perfect to enjoy anytime, any day.
Print
Pin
Rate
Ingredients
2

whole

Catfish

Cut into steaks. Washed

10-15

Njangsang seeds

Akpi, Ground or Blended

1

tbsp

Pepper soup spice

2

tsp

Seasoning powder

1

tsp

Salt

1

whole

Bell pepper

deseeded

1

medium

Onion

2

Habanero peppers

2

Garlic cloves

½

thumpsize

Ginger

Chopped scent leaves

or basil

4

cups

Water
Instructions
Blend the bell pepper, onion, garlic, ginger and habanero peppers until smooth.

Add water to a pot on medium heat.

Add the ground njangsang, pepper soup spice, seasoning powder, salt, blended mix and the catfish. Stir till well combined.

.Bring to a boil for 8 minutes.

Garnish with the sliced scent leaves and let it simmer for 1 minute.

Adjust the taste with salt and seasoning powder. Stir carefully at this point so you don't break or scatter the fish.

Serve hot with any side of your choice.
Video
Tried this recipe?
Mention @cookingwithclaudy or tag #cookingwithclaudy