Sometimes grilling a whole fish is a hassle to some people because it's delicate and requires a lot of care and technique. But do not worry, because these tips are very helpful. Also, important tutorials on how to grill or roast a whole fish in the oven.
Grilling a whole fish is better than fish fillets because it's much easier to cook and it's extra juicy and flaky. I love to grill my fish in the oven and sometimes in the summer, on my BBQ grill. Most often, I enjoy grilled fish with some roasted potatoes, sauteed veggies, and a cup of chilled wine, heavenly one indeed.
Note: The ingredients in the recipe below can be customized based on preference or use any ingredients of your choice. Most importantly, follow grilling tips.
Important Tips and Tricks:
First, Select the fish you want to grill or roast. Watch out for:
1. The freshness of the fish: Make sure the fish has:
Eyes: They should be clear and not cloudy. Eyes shouldn't be sunken but bulged.
Smell: Feel free to go closer to the fish to get the smell. The smell alone will tell you if the fish is fresh or not.
Skin should be firm when touched and plump back up. It shouldn't leave any dent when touched.
Color: Fish shouldn't have brown color around the skin or gills.
2. The type of fish you want to grill: I always recommend white fish like red snapper, mackerel, branzino, sea bass, sea bream, or pompano, and more. Also, fish which has eyes on both sides of the head.
How to Prep and Grill the fish.
If you can't prep the fish, feel free to tell your fishmonger to do it or buy already scaled and gutted fish. Also, let the fishmonger know it's for grilling and he will prep accordingly.
Since fish has already been gutted and scaled, you still have to do minimal prepping again:
Rince the fish well with water.
Pat dry the fish with a paper towel to get rid of extra moisture and water.
Score the fish using a knife by making slits or cuts deep till it touches the bone. Cuts should be about 1 inch apart. This also helps seasoning or marinade to get deep inside the fish and also to cook evenly.
Apply oil, I mean enough oil. This is the secret to an extra juicy fish and also helps it from sticking to the surface. Brush oil inside the belly of the fish and out.
Stuff the fish belly with some lemon slices and fresh herbs for extra flavor.
Apply marinade or seasoning generously all over the fish.
Throughout grilling, apply oil or marinade every 5 minutes on the fish for a juicy fish.
If using a BBQ grill, place fish in a basket so it is easier to grill and flip. If using the oven, place the fish on the rack or pan and grill or roast.
How to Prevent Fish From Sticking.
It is stressful and annoying when you take all the time, cost, and energy to a grill fish and it sticks making the flesh tear apart. Here are some tips that will help.
Apply enough oil all over the fish.
Scrape or wash particles from the grill or rack and apply oil to it.
If using an oven, use a broiler with a rack, (rub oil on the rack) like this one from Amazon or a Baking sheet with a rack.
Also, a baking sheet or pan can be lined with parchment paper or aluminum foil. Oil it to prevent sticking.
Place fish on some veggies or lemon slices to prevent it from sticking.
How to Grill fish in the oven
Preheat oven and broil, roast, or grill fish on high heat for 20 minutes flipping it halfway through cooking time. Test doneness with a fork by lifting the flesh. If using a thermometer, the internal temperature has to be 145 degrees F. Remove the fish from the oven and let it sit for about 3-5 minutes then serve.
You can use this recipe or use your ingredients with the above tips to ensure a well-cooked fish. Also, I have more than 50 fish recipes on Youtube with perfect marinade and seasonings. Check it out.
You may like these Fish recipes: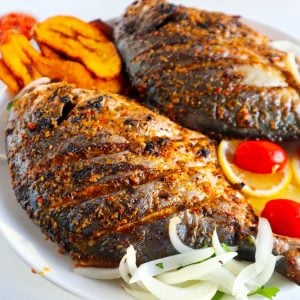 How to cook a whole fish
Grilling a whole fish is better than fish fillets because it's much easier to cook and it's extra juicy and flaky.
Print
Pin
Rate
Ingredients
1

Whole

Fish

scaled, gutted, and washed. I used Pompano

½

Red bell pepper

3

sprigs

Parsley

½

thumpsize

Ginger

4

Garlic cloves

½

Celery stalk

2

Spring onion

¼

Medium onion

1

tsp

Seasoning powder or bouillon

1

tsp

Salt

1

tsp

Thyme

dried

½

tsp

Black pepper

¼

cup

Olive oil
Instructions
Preheat oven to 400℉. Broil or Grill option.

Combine all ingredients except the fish in a blender and blend till smooth.

Pat dry fish and make deep diagonal cuts 1 inch apart. Pat dry again.

Using a brush or your hands. Apply marinade on both sides of the fish and the belly of the fish. Save some marinade for basting. If you have some lemon slices and fresh herbs, stuff the belly of the fish with them.

Cover and let it marinate for about 30 minutes.

Transfer the fish to a broiler pan and spray or apply oil on the fish.

Put in the preheated oven for 20 minutes at 400℉. Flip sides halfway through the cooking time.

Add little oil to the remaining marinade and place in the microwave for 5 mins or simmer in a saucepan for 5 minutes on medium heat.

Using a brush, now apply the cooked marinade on the fish every 5 minutes of cooking.

After flipping the sides of the fish, still apply the marinade again every 5 minutes till the cooking time is done.

Remove the fish from the oven and let it sit for about 3-5 minutes then transfer it to a plate using a serving spoon.

Now serve with the cooked marinade as a dip with your choice of side. Enjoy.
Video
Tried this recipe?
Mention @cookingwithclaudy or tag #cookingwithclaudy
Nutrition
Calories:
263
kcal
|
Carbohydrates:
5
g
|
Protein:
1
g
|
Fat:
27
g
|
Saturated Fat:
4
g
|
Polyunsaturated Fat:
3
g
|
Monounsaturated Fat:
20
g
|
Cholesterol:
0.3
mg
|
Sodium:
1179
mg
|
Potassium:
147
mg
|
Fiber:
1
g
|
Sugar:
2
g
|
Vitamin A:
1233
IU
|
Vitamin C:
46
mg
|
Calcium:
32
mg
|
Iron:
1
mg